The Farm Aquaculture Resource Management (FARM) model is a leading modelling software for assessment of coastal and offshore shellfish and finfish aquaculture at the farm-scale level, directed both at the farmer and the regulator. FARM is a decision support and management software tool for fish farming operations.
The modelling framework applies a combination of physical and biogeochemical models, bivalve/finfish growth models, and screening models for determining aquaculture production and eutrophication assessment. FARM determines the optimal carrying capacity (the greatest sustainable yield of market-sized animals within a given time period). The FARM model also calculates profit optimisation using marginal analysis and can be used for the valuation of nitrogen credits.
The FARM model is a screening model with the following main objectives:
Prospective analyses of culture location and species selection;
Ecological and economic optimisation of culture practice for shellfish and finfish;
Timing and sizes for seeding and harvesting, densities and spatial distributions;
Environmental assessment of farm-related eutrophication effects;
Evaluation of potential nitrogen credits.
FARM is a management tool, providing offshore fish farms with an innovative and cost effective approach to analyse production and the environmental components of coastal aquaculture including water quality aspects.
Innovative and cost-effective approach for optimisation of shellfish and finfish production;
Demonstrate sustainability of offshore aquaculture operations;
Tool for valuation of nitrogen and phosphorus removal;
Aid prospective aquaculture site selection.
Shellfish
Pacific Oyster - Crassostrea gigas;
American Oyster - Crassostrea virginica;
Blue Mussel - Mytilus edulis;
Mediterranean Mussel - Mytilus galloprovincialis;
Chilean Blue Mussel - Mytilus chilensis (in progress);
Finfish
Atlantic Salmon - Salmo salar (in progress);
Gilthead Seabream - Sparus aurata (in progress).
The intended scope of application is for shellfish and finfish farms, in coastal and estuarine waters. FARM can address issues relating to shellfish and finfish aquaculture faced by a variety of sectors, including:
Private sector fish farms / Aquaculture operations;
Water managers and regulators;
Aid agencies and development programmes;
Government initiatives;
Academic projects;
Insurance and financial institutions.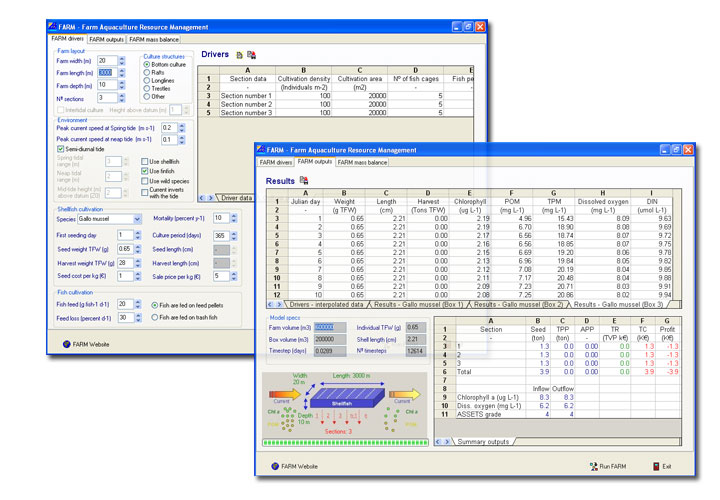 Allows for modelling of oysters, mussels, clams in conjunction with finfish;
Accounts for different types of growing structures;
Simplified driver data to run FARM model;
Ability to input mortality, seed cost, fish feed, culture periods, etc.
Growth modelling results for shellfish and finfish growth;
Analysis of water quality effects, including dissolved oxygen, particulate organic matter, etc;
Production analysis including total physical product, cost curves and profit maximising outputs;
Important insights for prospective and current aquaculture operations.
Calculation of nutrient mass balance;
Nutrient removal analysis expressed in monetary values (i.e. cost of nutrient treatment from population equivalents);
Determination of eutrophication status (using the ASSETS model).
If you would like to know more about any of our aquaculture models or have any questions talk to us.

FARM paper published in the Aquaculture Journal.

FARM helps offshore and nearshore aquaculture farms produce sustainably, determining harvestable biomass and carrying capacity. FARM provides a production analysis, a water quality analysis and a mass balance analysis.

FARM es un modelo acuicola que permite un enfoque de costo efectivo para optimizar la producción, el análisis de la calidad del agua y la optimización económica de granjas acuicolas costeros y en mar.

FARM ajuda explorações aquícolas no mar a produzirem de forma sustentável, optimizando a produção aquícola, a qualidade da água e os efeitos ambientais no local de cultivo e a componente económica da produção.
« back