The Pond Aquaculture Management and Development (POND) is a leading modelling software for assessment of onshore shellfish and finfish aquaculture at the farm-scale level, directed both at the farmer and the regulator. POND is a decision support and management software tool for land-based aquaculture operations.
POND assists onshore aquaculture farms simulate different seeding scenarios, optimise production and environmental sustainability of the farming process.
The POND model simulates aquaculture growth and production of animals in pond culture, taking into account the farm layout, the cost of seed/feed available, the cultivation characteristics (species, stocking specifications, culture period) and pond characteristics (water temperature, salinity, chlorophyll, dissolved oxygen, etc) and calculates the distribution of biomass for cultivated species, with an emphasis on the harvestable weight classes.
Prediction of production and feed requirement;
Optimisation of seeding size and culture periods;
Optimisation of farming methods and environmental effects;
Mass balance analysis;
Disease analysis.
POND is a management tool, providing onshore aquaculture farms with an innovative and cost effective approach to analyse production and the environmental components of pond culture, water quality and effluent quality. This is important for commercial shrimp farms, bivalve farms and finfish farms.
Stress test production by altering key variables;
Providing a valuable tool for scenario testing;
Aid existing site production experiments;
Demonstrate compliance with certification programs and international environmental standards.
Shellfish
Pacific White Shrimp - Litopenaeus vannamei;
Indian Shrimp - Fenneropenaeus indicus;
Giant Tiger Prawn - Penaeus monodon (in progress);
Oysters.
Finfish
Nile Tilapia - Oreochromis niloticus (in progress);
Gilthead Seabream - Sparus aurata (in progress).
Outputs
Application
Product Analysis
Simulation of potential harvest
Optimisation of harvest timing
Changes in stocking density
Optimum profit structure with respect to stocking density, pond and feed
Calculation of Average and Marginal Physical Product (APP and MPP)
Environmental Effects
Deposition analysis
Sediment oxygend demand and dissolved oxygen analysis
Effect of the pond water quality
Assessment of pond eutrophication
IMTA simulation on water/sediment quakity, e.g. combining shrimp with finfish
Mass Balance Analysis
Mass balance analysis for farms
Environmental footprint of farms
Production analysis, algal growth using dissolved nutrient analysis and water quality
Quality of outflowing water (pond effluent) for farms with circulation
Disease Analysis
Stressor-related models to assess disease outbreaks probability (coming soon)
The intended scope of application is for onshore aquaculture farms. POND can address issues relating to onshore aquaculture faced by a variety of sectors, including:
Private sector shrimp farms / Aquaculture operations;
Water managers and regulators;
Aid agencies and development programmes;
Government initiatives;
Academic projects;
Insurance and financial institutions.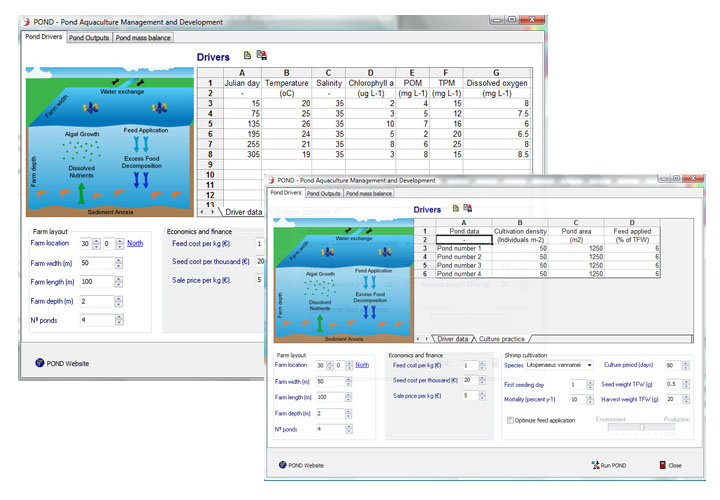 If you would like to know more about any of our aquaculture models or have any questions talk to us.

POND paper published in the Aquaculture Journal.
POND helps onshore aquaculture farms produce sustainably, determining harvestable biomass and carrying capacity. POND provides a production analysis, an environmental effects analysis and a mass balance analysis.
POND es un modelo acuicola que permite un enfoque de costo efectivo para optimizar la producción, el análisis de la calidad del agua y la optimización económica de granjas acuicolas en tierra.
POND ajuda explorações aquícolas em terra a produzirem de forma sustentável, optimizando a produção aquícola, a qualidade da água e os efeitos ambientais no local de cultivo e a componente económica da produção.
« back