Food production must be channelled towards more aquaculture production from marine and freshwater, remembering that the planet is challenged by a shortage of land and freshwater. Aquaculture production in the European Union must be analysed in the context of aquaculture and fisheries, as both farmed and wild products are often in direct competition, and therefore cannot be viewed on a standalone basis when assessing market related issues. One of the primary challenges for stakeholders is the lack of access for new market entrants to grow and diversify aquatic products, including but not limited to small and medium size enterprises. Market related aquaculture issues must be addressed to improve the efficiency of farmed products and to maximise the value of existing production.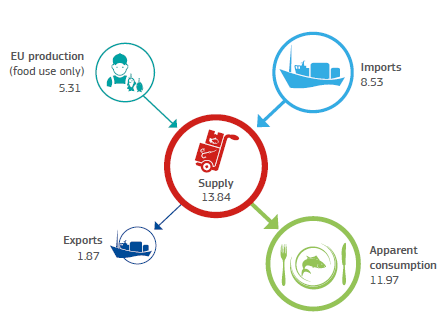 A strong competitive advantage that is currently experienced related to the quality and sustainability of Europe's aquaculture products, and the degree of future success, depends in part on maintaining healthy marine and freshwater environments. The provisions set out in WFD and to a certain extent the MSFD, further reinforce this requirement, in addition to the legislation relating to product safety, health requirements, consumer requirements, and environmental stewardship. Implementation of these protocols has cost implications that need to be factored in by the aquaculture sector, however economies of scale provided by desired growth of the aquaculture industry in the EU will likely amortise this cost over time. The suggested steps for Member States to review includes:
Analysis of the number of new licences granted throughout time-periods;
The success rate of applications;
The number of applications being processed;
The average time to complete licensing procedures;
The number of institutions involved in the licensing procedures;
The average cost of licensing procedures for new businesses;
The average duration of an aquaculture licence.
AquaSpace assists the process of improving spatial planning potential and reducing uncertainty through the delivery of products that simplify initial spatial planning assessment and evaluation of competitiveness in each country. Comprehensive spatial planning, in conjunction with meaningful political support, can result in the identification of zones allocated to increase European production in an acceptable manner, with minimum environmental trade-offs, and providing EU aquaculture with a platform to address local, domestic, and international export markets. WATER (Where Aquaculture Can Thrive in Europe) and the Aquaculture Investor Index (multi-metric index) assist in framing key considerations in the due diligence process.
Improvement of the competitiveness of the European aquaculture industry includes marketing and logistical improvements on behalf of aquaculture producers and producer associations, for small and medium scale producers to compete on a global platform. Improved competitiveness must be accompanied by a mandate to allow more production, within the identified carrying capacity ranges to produce sustainable growth rates, enabling Europe to satisfy necessary internal and export volumes, without compromising the fundamental principles of high quality aquaculture.
Consumer behaviour is key for the acceptance of aquaculture farms and their products for domestic and export markets. Increased demand resulting from consumer shifts from terrestrial livestock protein to aquatic protein, will encourage a greater cultural affinity towards European aquaculture. In countries that have a cultural affinity with wild fisheries, there is a requirement to educate consumers, to encourage the substitution of fisheries for a competitively priced high quality farmed alternative. In countries where aquatic products do not have a cultural foothold, educating consumers to prepare, cook, and enjoy European aquaculture products is crucial to shape habits.
Aquaculture production in the EU totalled 1.28 million tonnes in 2014, reaching a peak of just under 4 billion EUR. EU consumers spent 54 billion EUR on fisheries and aquaculture products in 2015, representing the largest amount ever recorded (EUMOFA, 2016). Aquaculture is a significant activity in many European regions, covering 20% of the total EU fish production (EUFOMA 2016; EU, 2016).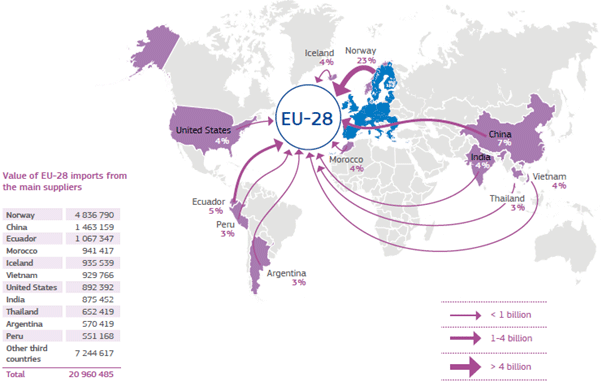 The EU is the largest trader of fishery and aquaculture products worldwide in terms of value, and is the largest importer of fishery products in the world, however sustains a trade deficit of 17.8 billion Euros (EUMOFA, 2016). Comparatively, the trade deficit is EUR 6 billion greater than the United States and EUR 7 billion more than Japan. Frozen and fresh products comprise the bulk of the deficit, which has been growing since 2009.
The EU is the largest trader of fishery and aquaculture products worldwide in terms of value, and is the largest importer of fishery products in the world, however sustains a trade deficit of 17.8 billion Euros (EUMOFA, 2016). Comparatively, the trade deficit is EUR 6 billion greater than the United States and EUR 7 billion more than Japan. Frozen and fresh products comprise the bulk of the deficit, which has been growing since 2009.
The price structure for aquatic products in Europe is market and species dependent. It is possible to infer macro trends with respect to seafood price structuring, however for aquaculture production to thrive in the European Union, market signals must provide an incentive for producers to allocate resources for development. Fisheries products have a range of denominations, sizes, presentations in different markets, based on consumer preference. The availability of close substitutes, both real and perceived, can influence the substitution effect and price elasticity of the product. The EMFF is providing incentives for European Union aquaculture development, however investigation regarding the species selection driving this growth, requires micro and macro analysis of price structure. The price paid for aquatic products by the end consumer, requires understanding of the price structure in the supply chain, and how value is apportioned along the different stages, starting with raw material outputs from aquaculture and fisheries introduced in to the supply chain for processing. All aquaculture producers engage in processing of some description, ranging from basic primary processing, to secondary value added products. Aquaculture is playing an increasing role as a supplier of raw material outputs for processing. Consistency of sizes and year-round availability of high grade farming products from aquaculture lends a major advantage over fisheries products. Aquatic products range from live to secondary processed products, that can be sold to a variety of outlets. EUMOFA (2013) identify four primary types of aquatic product commercialisation:
Live products (shellfish and fish);
Fresh fish (whole, gutted, head-on, head-off);
Primary processing with varying characteristics, such as heading, filleting (skin-on, skin-off, whole fillets, loin), and cutting (slices, consumer portions, sushi, or alternative presentations);
Secondary processing with broader range of process and products, including preserves (in brine, salted, smoked) to sophisticated value added prepared meals.
In the context of price structure analysis, the comparison between aquaculture and fisheries products starts at the ex-farm (aquaculture) and first-sale (fisheries). Prices for ex-farm/first sale are monitored across Europe by production associations and fishing ports. Data in the intermediate stage is difficult to obtain, and while numerous wholesale markets publish price information, numerous fish merchants and wholesalers operate outside of the wholesale markets. A proxy methodology to understand value transformation is to apply standard margin coefficients (calculated from average gross margins of a representative sample of wholesalers) to ex-farm or first sale prices (EUMOFA, 2016). A simple analysis involves looking at the price structure differential across the main supply chain steps, such as comparing ex-farm, wholesaler, and retailer prices to understand the distribution in value. The reported share of the value is neither margin or profit, however does show where the costs and margin breakdown should be analysed. The processing business is not a high margin business, and the distribution of value amongst the stages, does not provide break-even positions of the supply chain actors. A comprehensive analysis of the price structure requires a wide ranging and large dataset on costs and margins of the actors to identify the production, operating, processing, transportation, energy and other inputs costs.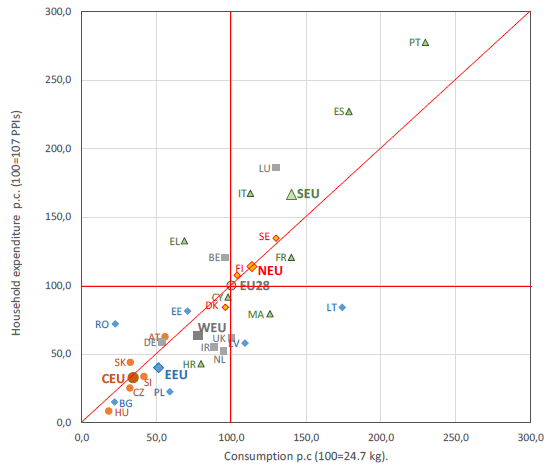 Consumers are the end users relating to aquaculture market related issues. A significant push for sustainable aquatic products in the European Union, has led to improved product traceability and certification of origine. The European Maritime and Fisheries Fund (EMFF) is placing emphasis on the quality of fisheries and aquaculture products (FAP) from the European Union. The expanding global middle class, namely in export markets, where local fisheries and aquaculture products do not benefit from stringent levels of quality and control, are demanding safe protein, which is a pillar of the sustainable aquaculture. Within the EU consumer market, understanding of the mechanisms and motivations that drive the consumption of aquaculture products, is crucial to bring producers and consumers closer together.
Health risk versus the perceived benefit of seafood consumption – various studies concluded that traditions and habits weighed more than the perceived health benefits from seafood consumption;
Consumer label information – studies reported attention is paid to food labels, ranging from price, expiry date, species, place of origin, to derive a quality assessment of aquatic products. Additional food safety labels are also reported to be of significant interest to consumers;
Perception of farmed versus wild aquatic products on consumption – consumers are reported to have a positive image of fish products, the health benefits conferred. Furthermore, the fish origin does not appear to be a major importance, and wild fish are generally preferred to farmed fish;
Incentives and barriers to consumption aquatic products – studies report the primary incentive for eating fish are health and taste, whereas the main barriers are a price perception that fish are expensive. The satiety of fish lacks when compared to meat per the referenced studies, however preparation differences in different European Union countries are acknowledged.